Private lending is the process of borrowing money from companies, investors or other people who do not typically require detailed loan submission and approval processes. Private lending doesn't typically require that you have certain business credit scores to qualify for the loan. Generally, private lending requires less formal processes and has different and potentially lower lending criteria requirements than those from traditional lending institutions such as banks and venture capital firms.
This book was created to help startup business and small entrepreneurs obtain funds for the startup and initial expansion of their businesses. It was created from actual experiences of finding private lenders, creating the necessary materials and communicating with more....
Sample Diagrams
Business Loan Process
This diagram shows how a private business loan project can be managed. In this example, the business loan process is divided key steps that can be defined and managed. The private investor prospecting step is used to identify new potential lenders or expanded needs for existing private lenders. The qualification step is used to determine how many of the prospects have the typical characteristics of private lenders (are qualified). The interest level assessment step is used to determine how motivated the prospect is to take action to lend you the money you need or to refer you to other potential private investors. The fact-finding stage is used to determine the details (the terms) of what the will require to make the loan. The close involves the consolidation of the previous steps (coordination of motivated decision makers) so the loan can result.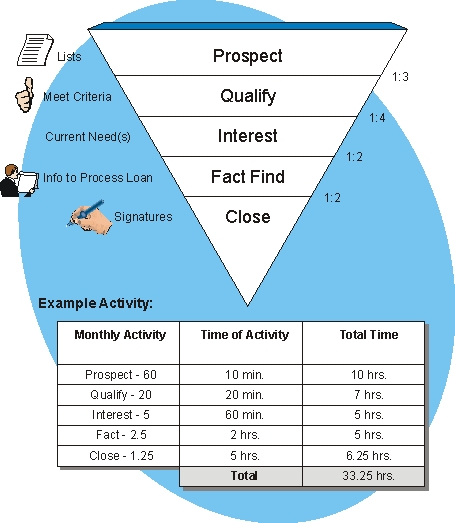 Sample First Contact Script
This script provides a sample of how a business owner may make an initial contact with a potential investor or with a person who may refer another potential investor. This script assumes the prospect is known by the business owner. This example shows that the business owner is simply asking the friend or associate to review the information even if they do not plan to provide an investment. While this initial presentation may obtain a loan commitment, it may provide essential introductions to other potential lenders.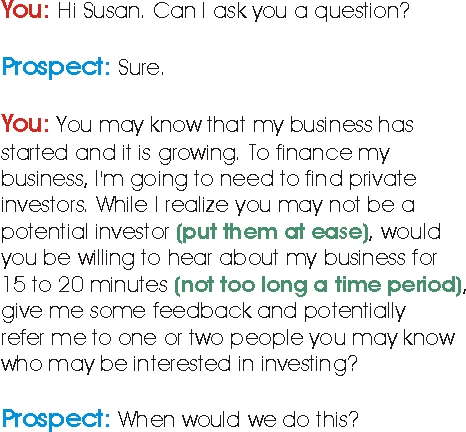 Sample Business Loan Note
This image shows a sample business loan agreement (promissory note). The first page of the loan agreement typically identifies the agreement type, the people who are involved, their contact information (address, city and state), the date of the agreement, and the amount of the agreement. In addition to the basic declarations, some general terms may be discussed such as an early repayment option and the amount of penalty that will occur if the loan is repaid ahead of schedule.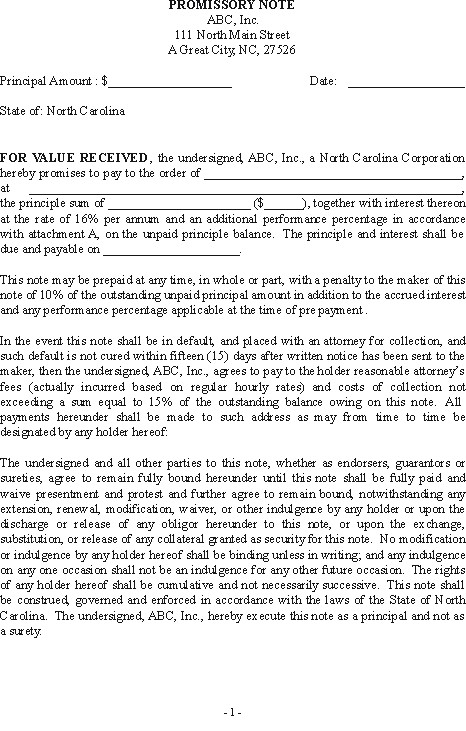 PRIVATE LOANS
-LIMITED DETAIL REQUIRED
-SHORT TERM FOCUS
-PROVIDES AN EXIT STRATEGY FOR INVESTORS
-PRIVATE INFORMATION SURPRISES IN GETTING PRIVATE LOANS
-RICH PEOPLE (FRIENDS/FAMILY) LOAN VERY LITTLE TO YOU
-SOME FRIENDS LOAN ENTIRE AMOUNT NEEDED
-UNKNOWN MENTORS (BUSINESS HELPERS) WRITE LARGE PERSONAL CHECKS
-QUESTIONS ASKED ARE NOT RELATED TO ACTUAL LOAN
-WILL GET MANY REFERRALS
-OVERCOMING BAD REPUTATION (BANKRUPT)
-LOTS OF EXCUSES
-CHANGE IN RELATIONSHIPS WITH FRIENDS, FAMILY AND WORKERS
-POSITIVE REACTIONS
-GROUPS OF INVESTORS LOAN AGREEMENT TERMS
-AMOUNT (RANGE)
-LOAN TYPE
-TERM (MONTHS-YEARS)
-SECURITY
-FIXED OR VARIABLE INTEREST
-EARLY TERMINATION CLAUSE
-PERFORMANCE INCENTIVES
-REPAYMENT SCHEDULE
-EARLY REPAYMENT OPTIONS
-STOCK/EQUITY CONVERSIONS OPTIONS
-LIQUIDATION CLAUSE LEARNING HOW TO GET FINANCING
-READ THIS BOOK (A START)
-TALK TO OTHER BUSINESSMEN LIKE YOU
-READ OTHER BOOKS
-SBA SCORE
-SEMINARS/CONFERENCES
-ONLINE
-PROFESSIONALS (LAWYERS/ACCOUNTANTS)
-BANKS STEPS TO GET PRIVATE LOANS
-IDENTIFYING POTENTIAL INVESTORS
-Business Clubs
-Professionals
-Friends and Family
-Bankers (for Referrals)
-Social and Religious Groups
-Business Owners
-Vendors and Suppliers
-INITIAL PROPOSAL
-Interest Getting Introduction
-Non-Threatening First Step
-Credibility Builder
-Asking for Referrals
-KEEPING IN CONTACT
-COMPLETING THE PAPERWORK
-GETTING THE CHECK SAMPLE SCRIPTS (EXAMPLES OF WHAT TO SAY)
-ASKING FOR REFERRALS
-YOUR OPPORTUNITY
-FIRST CONTACT WITH POTENTIAL INVESTOR
-FOLLOWING-UP WITH POTENTIAL INVESTOR
-PREPARING THE LOAN AGREEMENT SAMPLE EMAILS (EXAMPLES OF WHAT TO SEND) APPENDIX A – SAMPLE PROMISSORY NOTE APPENDIX B – KEEPING TRACK OF PRIVATE LENDERS

About the Author

Mr. Mr. Lawrence Harte is the president of Althos, an expert information provider which researches, trains, and publishes on technology and business industries. He has over 29 years of technology analysis, development, implementation, and business management experience. Mr. Harte has worked for leading companies including Ericsson/General Electric, Audiovox/Toshiba and Westinghouse and has consulted for hundreds of other companies. Mr. Harte continually researches, analyzes, and tests new communication technologies, applications, and services. He has authored over 50 books on telecommunications technologies and business systems covering topics such as mobile telephone systems, data communications, voice over data networks, broadband, prepaid services, billing systems, sales, and Internet marketing. Mr. Harte holds many degrees and certificates including an Executive MBA from Wake Forest University (1995) and a BSET from the University of the State of New York (1990).


Private lending is the process of borrowing money from companies, investors or other people who do not typically require detailed loan submission and approval processes. Generally, private lending requires less formal processes and has different and potentially lower lending criteria requirements than those from traditional lending institutions such as banks and venture capital firms.

This book was created to help startup business and small entrepreneurs obtain funds for the startup and initial expansion of their businesses. It was created from actual experiences of finding private lenders, creating the necessary materials and communicating with potential lenders, creating the loan agreements and following up to obtain the checks.

Traditional lending institutions have a difficult time evaluating intellectual and business capital that small startup businesses may have or are in the process of creating. As a result, small business owners are typically ignored or even avoided by traditional lenders such as banks.

When seeking private business loans, it is helpful to know how to identify and meet potential private lenders. Private lenders range from family and friends with limited amounts of money to wealthy people. Once you have identified potential lenders, you will want to communicate with them in a way that motivates them to listen to you (the first achievement) and to potentially lend money to you or give you names of other people who may lend money to you.

This book helps you to learn effective ways to communicate with private lenders along with methods that help to motivate private lenders to respond and take action. Included are sample scripts of discussions with potential lenders. While it is not recommended that you use these sample scripts exactly as they appear in this book, they should help you to develop your own styles and scripts. You will discover how it can be beneficial to have a story to tell on why you need the money, how you plan to use it and what kind of results you expect from using the money.

The typical and optional loan terms contained in loan agreements are described and explained. Some of the terms covered and explained are the amount of the loan, timing of repayment, types of interest applied, performance options, stock/equity options and loan guarantees. Sample loan agreements are included.

One of the key advantages of private lending is the short amount of time between asking for money and actually receiving it. You will learn that the process of obtaining private loans can vary from days to weeks compared to weeks or months for obtaining funds from equity investment.

Regulations exist for the soliciting and borrowing of private funds and these regulations can dramatically vary from State to State. While this book will provide descriptions on how to approach people and provide descriptions on processes used to obtain private loans, you should contact competent regulatory authorities, attorneys, and qualified professionals to determine the legal requirements you may be required to fulfill. Some of the most important topics featured are:

- How to identify and meet potential private lenders
- Communicating with lenders (sample scripts)
- What to present at a meeting with a private lender
- How to follow-up after an meeting with a potential lender
- How to ask for money
- The financial language private lenders expect you to understand
- Typical timing between asking for money and receiving the money
- Ways to motivate private lenders to take action
- Sample loan agreements and explanations of the typical loan terms