Internet Telephone Basics explains how and why people and companies are changing to Internet Telephone Service. Learn how much money can be saved using Internet telephone service and how you can to use standard telephones and dial the same way. Internet telephone service usually costs 1.5 to 4 cents/min for long distance calls and 3 to 10 cents/min for International calls. It describes how to activate Internet telephone service instantly and how to display your call details on the web. Covered are the advanced features and services including more....
Sample Diagrams
There are 80 explanatory diagrams in this book
Internet Telephone Service Chain
This figure shows the chain of connection for typical Internet telephone service. This diagram shows a standard telephone that is connected to the Internet via an analog telehone adapter (ATA) and a DSL DSL access line. The Internet service provider (ISP) adapts the data from the DSL line and sends it to the Internet network. The Internet routes the packets to a telephone gateway that converts the packets into standard telephone signals that can be heard by the receiving telephone. In this example, the weakest links are the callers access line (DSL connection) and the gateway that converts Internet packets to telephone calls. The DSL line in this example has relatively low speed for a broadband connection (not all DSL lines are the same) and the conversion gateway has poor echo canceling capability. Even with these weak links, the majority of calls are likely to have excelling quality ("toll quality") service.

Router with DHCP
This figure shows how a router uses DHCP to provide a temporary IP address to a computer when it requires an Internet communication session. In this example, the router has already received a single IP address from the Internet service provider (ISP). When the router receives the request for connection to the Internet, the router assigns an private IP address from is list of avaialble IP addresses (private IP address 2). The computer will then use this IP private address for all of is communications with the Internet until it disconnects the connection to the ISP. The router will identify and translate (change the address) for all the packets that are designated for this specific computer.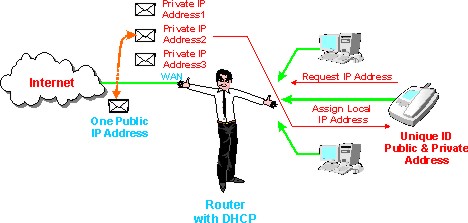 How to Insert a Router for Internet Telephone Service
This figure shows how to insert a router in a data line to allow the connectiong of a computer and Internet telephone or analog telephone adapater box. This diagram shows that the data line is disconnected from the data modem. The Internet or WAN port of the router is then connected to the data modem. One of the available data ports of the router is connected to the computer and another data port is connected to the Internet telephone or analog telephone adapter box.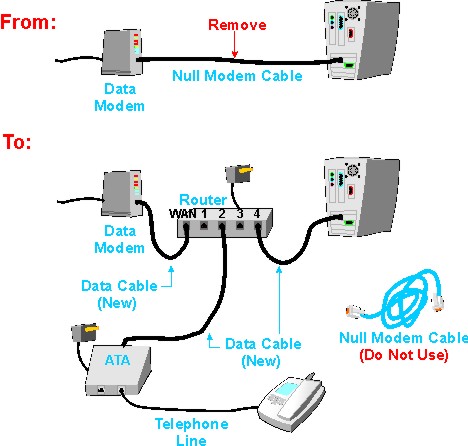 Typical steps:

1. Disconnect the data cable that connects the data modem to your computer. Do not use this cable as it is a special Null Modem cable (it has the wires on the pins flipped).

2. Connect a new patch cable from the data modem to the Internet or WAN connection of the router.

3. Connect a patch cable to an available data port on the router (such as 1) and the computer.

4. Connect a patch cable between the next available data port and the network port (such as 2) on the Internet telephone, or adapter box (may be labeled 10BaseT or 100BaseT).

If you are using an Internet telephone, your connections are done! 5. Connect the telephone line to the Line1 connection of the analog telephone adapter.



Table of Contents Chapter 1 – Why Change to Internet Telephone Service Chapter 2 – How Internet Telephone Service Works Chapter 3 – Calling Standard Telephones Chapter 4 – Calling Other IP Telephones Chapter 5 – Keeping your Telephone Numbers Chapter 6 – Internet Telephones Chapter 7 – Internet Connections Chapter 8 – Internet Telephone Service Providers (ITSPs) Chapter 9 – Quality, Security and Reliability Chapter 10 – Billing and Customer Care Chapter 11 – Advanced Features and Services Chapter 12 – Potential Challenges Chapter 13 – Industry Standards Chapter 14 – Setup Options Chapter 15 – Getting Started Appendix 1 - Glossary Appendix 2 - Acronyms Appendix 3 – Online Utilities for Internet Connection Test and Optimiation Appendix 4 – List of Internet Telephone Service Providers (ITSPs) Appendix 5 – List of Internet Telephone Equipment Providers About the Author

Lawrence Harte has over 29 years of experience in the electronics industry including company leadership, product management, development, marketing, design, and testing of telecommunications (cellular), radar, and microwave systems. He has been issued patents relating to cellular technology. He has authored over 75 articles on related subjects and has been a speaker and panel moderator at industry trade events. Mr. Harte earned executive MBA at Wake Forest University and received his Bachelors degree from University of the State of New York. During the TDMA digital cellular standard development process, Mr. Harte served as an editor and voting company representative for the Telecommunications Industries Association (TIA) TR45.3, digital cellular standards committee. As of 2003, Mr. Harte had authored and co-authored over 20 books relating to telecommunications technology. He has served as a consultant and expert witness for leading companies including Ericsson, Siemens, VLSI, AMD, Casio, Samsung, Sony, ATT, Nokia, Hughes and many others.

Description

Internet Telephone Basics explains how and why people and companies are changing to Internet Telephone Service. Learn how much money can be saved using Internet telephone service and how you can to use standard telephones and dial the same way. Internet telephone service usually costs 1.5 to 4 cents/min for long distance calls and 3 to 10 cents/min for International calls. It describes how to activate Internet telephone service instantly and how to display your call details on the web. Covered are the advanced features and services including intelligent call forwarding, unified email and voice mail messaging, and the simultaneous sending of voice, data, and video through the Internet during your calls.

All Internet Telephone Service is Not the Same and this book defines the cost and quality tradeoffs that you can make. You will learn how Internet telephone service works and how to talk for free by connecting directly to other Internet (IP) telephones. Setup and optimize your Internet connection for the different types of Internet telephones and adapters. Discover the potential challenges of Internet telephone service along with their solutions. Industry standards H.323, SIP, and MGCP are described. Appendixes include lists of ITSPs and equipment manufacturers.

back to top