Description

This book explains the fundamentals of audio, how it is digitized and compressed, basics of audio streaming, methods that are used to store audio, how to host digital audio on the web, audio control protocols, IP Audio streaming quality measurements and control and how digital rights management may be incorporated into IP Audio.

You will learn why IP digital audio is and has replaced many analog and digital audio systems. Industry standard IP Audio systems can be more cost effective and flexible than dedicated and/or proprietary audio systems. Using IP Audio allows for equipment and software cost reduction, increased ability to control video services, and provides new media capabilities.

The popular analog and digital audio formats are described along and how audio signals are captured and converted from analog to digital form (audio digitization). Because the amount of digital information that is needed to represent high-quality raw digital audio requires require several Megabits per second, digital audio is compressed to allow transmission through data networks such as the Internet. You will learn the basics of digital audio compression and how audio streaming systems allow for the efficient sending of packet audio through data networks that may delay or loose packets. You will learn how digital audio files are stored and accessed on IP Audio servers.

There are several different IP Audio compression methods and protocols that are available such as MP3 and AAC. Explained are cost and quality tradeoffs along with common problem areas and risks with sending IP Audio.

The creators and owners of audio and music want to ensure their intellectual property (IPR) is protected from copying, altering and distribution. An introduction to IP audio security and digital rights management is included.

Sample Diagrams

IP Audio System



This figure shows how audio can be sent via an IP transmission system. This diagram shows that an IP audio system digitizes and reformats the original audio, codes and/or compresses the data, adds IP address information to each packet, transfers the packets through a packet data network, recombines the packets and extracts the digitized audio, decodes the data and converts the digital audio back into its original video form.
IP Audio Distortion
This figure shows some of the causes and effects of audio distortion in IP Television systems. This example shows that audio signals are digitized, compressed and error protection coded prior to transmission. During the transmission process, some packets are lost or corrupted. The loss of packets can result in the temporary muting of the audio signal. Because the data compression process represents sounds by different codes in a codebook, packet corruption results in the creation of a different altered sound than the sound that was previously transmitted. When there is significant data corruption, this can create unusual sounds (a "Warble" sound).
Audio Codec Operation
This figure shows the basic operation of an audio codec. This diagram shows that the audio coding process begins with digitization of audio signals. The next step is to analyze the signal into key parts or segments and to represent the digital audio signal with a compressed code. The compressed code is transmitted to the receiving device that converts the code back into its original audio form.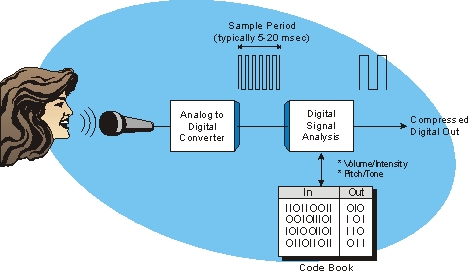 Table of Contents

Introduction to IP Audio

Monoral (Mono)
Sterophonic (Stereo)
Surround Sound


Analog Audio

Audio Filtering
Pre-Emphasis and De-Emphasis
Companding and Expanding
Dolby® Noise Reduction (Dolby NR)
- Digital Dolby®
- Dolby AC-3®
- Dolby Surround®
- Dolby Pro Logic®
- Digital Theater Sound (DTS)


Digital Audio

Audio Digitization
- Sampling Rate
- Bit Depth
- Digital Companding
- Dither
Audio Format Conversion (Transcoding)


Audio Compression

Waveform Coding
Perceptual Coding
- Frequency Masking
- Temporal Masking
Voice Coding
Tandem Compression
Transcoding


Internet Protocol Packet Transmission

Transmission Control Protocol (TCP)
User Datagram Protocol (UDP)
Real Time Transport Protocol (RTP)
Packet Buffering
Protocol Oppression
IP Packet Encapsulation


IP Audio Transmission

Audio Streaming
- Stream Thinning
Audio Synchronization
File Downloading
Progressive Downloading
Real Time Streaming Protocol (RTSP)


Digital Audio Quality (DAQ)

Key Quality Indicators (KQI)
- Bit Error Rate (BER)
- Packet Loss Rate (PLR)
- Packet Delay Variation (PDV)
Audio Fidelity
- Mean Opinion Score (MOS)
Frequency Response (FR)
Total Harmonic Distortion (THD)
Crosstalk
Noise Level
Signal to Noise Ratio (SNR)
Quality of Experience (QoE)
- Connection Success Rate (CSR)
- Connect Time
- Buffer Time
- Rebuffer Events
- Rebuffer Time


Digital Media Formats

Musical Instrument Digital Information (MIDI)
Wave Audio (WAV)
Audio Interleaved (AVI)
Advanced Streaming Index (ASX)
Advanced Streaming Format (ASF)
Real Media (RM, RA, RAM)
Ogg


Audio Coders

MPEG
- MPEG Layer 1 (MP1)
- MPEG Layer 2 (MUSICAM – MP2)
- MPEG Layer 3 (MP3)
- MPEG Layer 3 Pro (MP3Pro)
Advanced Audio Codec (AAC™)
- Advanced Audio Codec Plus (AAC Plus™)
- High Efficiency Advanced Audio Codec (HE AAC)
- Advanced Audio Codec Low Delay (AAC LD)
G.711
- U-Law Encoding
- A-Law Encoding
G.726 Adaptive Differential Pulse Code Modulation
Adaptive Multi Rate (AMR)
G.728
G.729
Adaptive Transform Acoustic Coding (ATRAC)
Advanced Audio Codec (AAC)
Speex
Vorbis
Audio File Format (AU)
Windows Media Audio (WMA)


Echo Canceling

Media Players

Media Format Selection
Media Player Selection
Plug-Ins
Bandwidth Awareness


appendix 1 - acronyms

index

IP Audio Acronyms-Appendix 1

AAC - Advanced Audio Codec
AES - Audio Engineering Society
AES10 - Audio Engineering Society 10
AES11 - Audio Engineering Society 11
AES3 - Audio Engineering Society 3
ATRAC - Adaptive Transform Acoustic Coding
AU - Audio File Format
AVC - Automatic Volume Control
CDA - Compact Disc Audio
Codec - Coder/Decoder
CSR - Connection Success Rate
DAQ - Digital Audio Quality
DAS - Digital Audio Server
dB - decibel
DNR - Dolby Noise Reduction
DR - Dynamic Range
DSI - Digital Speech Interpolation
DTS - Digital Theater Sound
DVD-A - DVD Audio
FLAC - Free Lossless Audio Codec
FR - Frequency Response
HDMI - High Definition Multimedia Interface
IDCT - Inverse Discrete Cosine Transform
IP Audio - Internet Protocol Audio
JS - Joint Stereo
KQI - Key Quality Indicators
LFE - Low Frequency Enhancement
MIDI - Musical Instrument Digital Interface
Mono - Monoral
MOS - Mean Opinion Score
MP3 - Motion Picture Experts Group Layer 3
MP3Pro - Motion Picture Experts Group Layer 3 Pro
MP4 - MPEG- 4
MUSICAM - Masking Universal Sub-band Integrated Coding and Multiplexing
NICAM - Near Instantaneous Companded Audio Multiplexing
NSA - Nullsoft Audio
PAC - Perceptual Audio Coding
PCM - Pulse Coded Modulation
PDV - Packet Delay Variation
PLR - Packet Loss Rate
Podcasting - POD Casting
PSNR - Peak Signal to Noise Ratio
QoS Policy - Quality of Service Policy
RA - Real Audio
RTN - Real Time Notification
RTP - Real Time Transport Protocol
RTSP - Real Time Streaming Protocol
SACD - Super Audio CD
SDIF - Sound Description Interchange Format
SNR - Signal To Noise Ratio
Stereo - Stereophonic
TASI - Time Assigned Speech Interpolation
THD - Total Harmonic Distortion
UDP - User Datagram Protocol
VAD - Voice Activity Detector
VLC - Variable Length Coding
VLE - Variable Length Encoding
WebRadio - Web Radio
WMA - Windows Media Audio





About the Author

Mr. Mr. Lawrence Harte is the president of Althos, an expert information provider which researches, trains, and publishes on technology and business industries. He has over 29 years of technology analysis, development, implementation, and business management experience. Mr. Harte has worked for leading companies including Ericsson/General Electric, Audiovox/Toshiba and Westinghouse and has consulted for hundreds of other companies. Mr. Harte continually researches, analyzes, and tests new communication technologies, applications, and services. He has authored over 50 books on telecommunications technologies and business systems covering topics such as mobile telephone systems, data communications, voice over data networks, broadband, prepaid services, billing systems, sales, and Internet marketing. Mr. Harte holds many degrees and certificates including an Executive MBA from Wake Forest University (1995) and a BSET from the University of the State of New York (1990).