Printed or Electronic Version (3.3MB) Available - Electronic Version has Color Diagrams
The signaling system 7 (SS7) control system that is used in public switched telephone networks (PSTN) can be interconnected to other types of systems and networks using Internet Protocol (IP). Some of the interconnection issues relate to how the control of devices can be performed using dissimilar systems (e.g. mixing voice and data systems). Another key reason for interconnecting SS7 network devices to IP data networks is the cost savings that result from more....
Sample Diagrams
There are 13 explanatory diagrams in this book
Hybrid SS7 and IP Network Interconnection
This figure shows that SS7 signaling system can be interconnected with voice over data networks and that SS7 messages can be transported over the Internet protocol. This diagram shows that analog and digital telephones are connected to the PSTN. To interconnect these telephones to voice over data network telephones, the media portion of each communication session is routed through a media gateway where it is converted from the PSTN circuit switched form to a IP packet data media format (packetized voice.) This diagram shows that the packet media can be routed through a data network (e.g. Internet) to an endpoint communication terminal such as a multimedia computer or an IP telephone. This diagram also shows that the SS7 network can control the PSTN through SS7 signaling messages and it can communicate to the media gateway through IP signaling messages.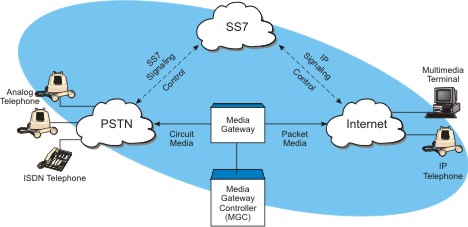 SIP System to PSTN Interconnection
This figure shows the SS7 that is used to initiate a call into a SIP system. This diagram shows that a caller that is connected to a SIP network (SIP client) initiates a call using an invite command that contains a destination SIP Uniform Resource Locator (URL). This identifier is sent to the proxy server that determines and maps the URL to the actual destination number that will be sent in the initial address message (IAM). The proxy server informs the SIP client that the call routing is in progress (it is trying to connect). The Invite command is then forwarded to the network gateway (NGW). The NGW creates an IAM that contains the destination phone number. The PSTN switch sends back an ACM to the NGW. The NGW informs the proxy server that the call is progressing and the proxy server forwards this session progress message to the SIP client. This allows an audio path to be connected between the PSTN and the SIP client. When the destination telephone user answers, the PSTN sends and answer message to the NGW. The NGW translates this command and sends a message updating the session to indicate the call has been answered. This is forwarded to the SIP client. When the SIP client acknowledges the message, the NGW can connect a second media path from the SIP client to the PSTN switch.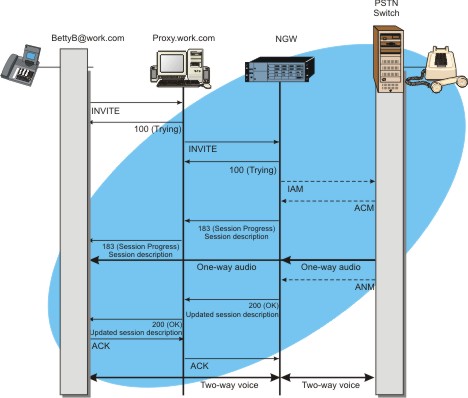 Table of Contents

SS7 and Internet Protocol (IP)

Signaling System 7 (SS7)

The Need for SS7
Basic SS7 Network Architecture
SS7 Signaling Link Types
Service Switching Points (SSP)
Signal Transfer Points (STP)
Service Control Points (SCP)
SS7 Reliability
ISDN Access Protocol
SS7 Mapped Onto the OSI Layer Model


Basic IP Telephony System Operation

Converting Voice to Data
Sending Packets
Converting Packets to Telephone Service
Managing the Connections


SS7 and Internet Protocol (IP)

SS7 and Internet Protocol (IP) Signaling Systems
Signaling Transport (SIGTRAN)
Stream Control Transmission Protocol (SCTP)
MTP3 User Adaptation Layer (M3UA)
MTP2 User Adaptation Layer (M2UA)
MTP2 Adaptation Layer (M2PA)
SCCP User Adaptation Layer (SUA)
ISDN User Adaptation Layer (IUA)


Internet Protocol (IP) Telephony Systems

Media Gateway Control Protocol (MGCP)
Session Initiation Protocol (SIP)
H.323





Related Books

About the Author

Mr. Lawrence Harte has over 29 years of experience in the electronics industry including company leadership, product management, development, marketing, design, and testing of telecommunications (cellular), radar, and microwave systems. He has been issued patents relating to cellular technology. He has authored over 75 articles on related subjects and has been a speaker and panel moderator at industry trade events. Mr. Harte earned executive MBA at Wake Forest University and received his Bachelors degree from University of the State of New York. During the TDMA digital cellular standard development process, Mr. Harte served as an editor and voting company representative for the Telecommunications Industries Association (TIA) TR45.3, digital cellular standards committee. As of 2003, Mr. Harte had authored and co-authored over 20 books relating to telecommunications technology. He has served as a consultant and expert witness for leading companies including Ericsson, Siemens, VLSI, AMD, Casio, Samsung, Sony, ATT, Nokia, Hughes and many others. Description

The signaling system 7 (SS7) control system that is used in public switched telephone networks (PSTN) can be interconnected to other types of systems and networks using Internet Protocol (IP). Some of the interconnection issues relate to how the control of devices can be performed using dissimilar systems (e.g. mixing voice and data systems). Another key reason for interconnecting SS7 network devices to IP data networks is the cost savings that result from avoiding the access charges for connect equipment to SS7 systems and databases. This excerpted chapter from SS7 Basics, 3rd Edition provides an overview of how SS7 and Internet Protocol (IP) can be integrated. It is an introduction on how SS7 messages can be transported over IP networks (even the Internet in some cases) and how SS7 can interface with other systems (such as IP Telephony systems). It provides a description of the signaling transport (SIGTRAN) system and how it uses SCTP packet transmission protocol to reliably send telephone call control messages across connectionless data networks. Explained are the adaptation layers M3UA, M2UA, M2PA, SUA, and IUA that are used to interconnect SS7 nodes via IP systems. Overviews of SIP, MGCP, MEGACO, and H.323 IP telephone systems are provided.

back to top